Ladies Aid
2016 Ladies Aid Report
Pilgrim Lutheran Ladies Aid Society is a member of Iowa District West, Lutheran Women's Missionary League, Sac City Zone. Zone members rotate hosting the Spring and Fall Rallies. We meet the first Wednesday of each month, except January,  in the church fellowship hall. Any lady belonging to the congregation may join the society. Women who are not communicant members of the church may be enrolled as non-voting associate members. Guests are always welcome. We have Prayer Partners that change each year, and one does not have to be a member of the society to be a prayer partner.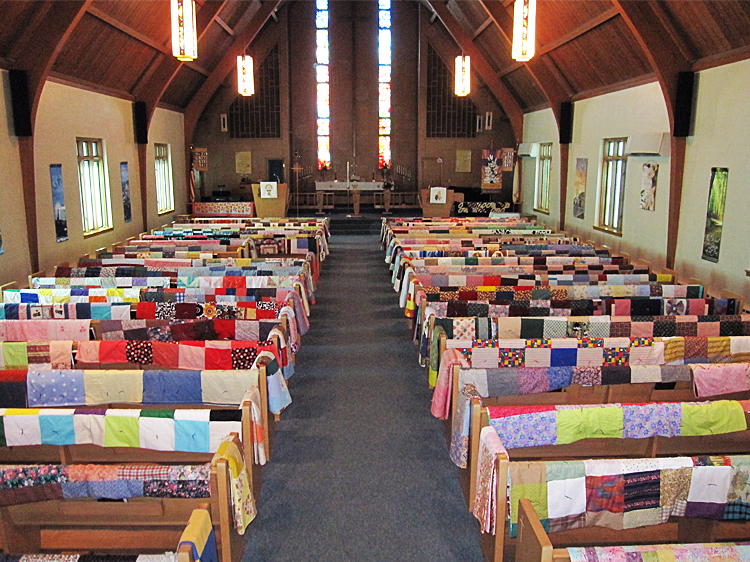 At our monthly meetings we have devotions, a lesson or topic, business meeting, the birthday song for members having birthdays that month, closing prayer, and lunch. In July, we meet for a morning meeting and sing-along. In December, we host a Christmas luncheon and party for members and guests.
Activities
Cover Girls began quilting in January and finished 137 quilts, with 124 being sent to Lutheran World Relief, 2 donated to the Camp Okoboji Quilt Auction, 4 gifted to our high school graduates, 6 sold, and 1 saved for future donations. Our other mission projects were assembling 40 School Kits for LWR and 97 Witness Bracelets for IOWAY, and tying and finishing patriotic quilts for homeless veterans. We also made diapers and hats to be sent to Haiti.
The February meeting was canceled due to bad weather. In March, we held the LWML Prayer Service. March 14th, we hosted the Lenten Luncheon June 1st we met at Sweet Things for a breakfast meeting. Meridith Sperling served as delegate to the IWD LWML Comvention June 23 – 25, and also helped register vendors. Colleen Petzenhauser worked at the IOWA booth. LWML Sunday was observed October 2.  At our December meeting, a motion was passed to give $425 to various mission projects.
We have 19 active members and 2 honorary members. Four members had perfect attendance during 2016.
Officers 2017
Marylyn Gillespie
President
Meridith Sperling
Vice-President